Ivette and Juan Elias Calles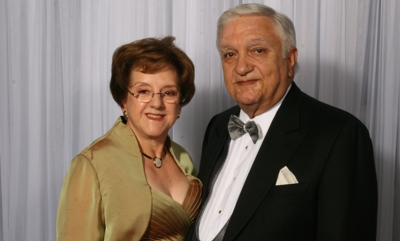 Leaving a Legacy Through a Gift of Life Insurance
From the time that their beloved nine-year-old daughter Ivette Marie was diagnosed with Type 1 diabetes in 1985, Juan Elias Calles and his wife Ivette have been dedicated activists in raising money and awareness for the Diabetes Research Institute—a place they had determined was their daughter's best hope for a cure.
"I met with Dr. Daniel Mintz, who was head of the Institute at that time," said Juan. "He was so informative, outlining his vision of research needed for a cure. His commitment was inspiring. With the DRI's current scientific director, Dr. Camillo Ricordi, the evolution toward a cure has gained momentum, and I feel very positive about the progress that has been made."
As proud parents and grandparents, Ivette and Juan are devoted to their family and the community. Their personal contributions and support of various events throughout the year exemplify their dedication to the DRI and its mission of finding a cure for this relentless disease. They are Distinguished Humanitarians of the DRI Foundation, and Juan has been a member of the Foundation's national board of directors for more than 20 years. In addition, he has served as the board's secretary and vice president for multiple terms. He also serves on the Florida board of directors for the DRI Foundation. He was instrumental in initiating the Foundation's Planned Giving program and is currently serving on the National Planned Giving Committee.
Going above and beyond, Ivette and Juan have committed to leaving a legacy by naming the DRI Foundation as the beneficiary of their own personal life insurance policies. Juan has additionally spent much of his professional life encouraging others to do the same.
Originally from Cuba, Juan started in the life insurance industry in 1969 in the Greater New York City area. He moved to Miami in 1976 to found his own agency. Calles specializes in estate planning, retirement planning, and business planning.
He subsequently became the manager of the regional office of Union Central Life Insurance Company in 1977. The Miami agency, which had previously been the company's least productive office, soared to become Union Central's top producer under his leadership. As a result of his expertise, Juan has enabled many concerned individuals to provide sizeable bequests to charities through their wills, life insurance and estate planning.
Calles is a very active member of his firm, ranking number one in sales for Union Central's list of highest producing agents in the country. Additionally, he has received numerous awards within the industry and beyond, including the 2006 Leading Agent in Individual and Total Production Companywide and the 2005 Lester A. Rosen Humanitarian and Achievement Award.
Juan and Ivette Calles realize that their contributions extend beyond helping their own daughter. Their generosity ensures that research toward a cure for all people living with diabetes will continue into the future.
Click here for more information about leaving a legacy of hope to future generations through a gift of life insurance to the DRI Foundation.
© Pentera, Inc. Planned giving content. All rights reserved.
Disclaimer