Jane and Bill Burt, Jr.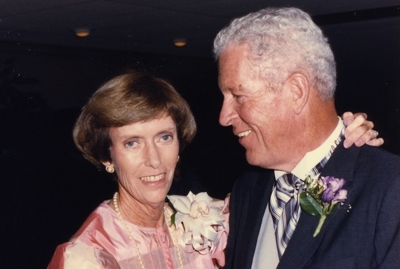 A Childhood Home Offers Hope for the Future
Married for over 40 years, Jane and Bill Burt, Jr. enjoyed their lives together and had a lot of love to give. They had five children, three sons and two daughters. For many years, they lived in Larchmont, New York, while Bill served as President and CEO of the former women's wear retailer, Peck & Peck. In 1970, the family moved to Sea Ranch Lakes in South Florida. Several years later, one of their sons developed type 1 diabetes during his freshman year of college. The Burts wanted to see their son cured, and became involved with the Diabetes Research Institute Foundation.
The Burt family grew as the children married and gave Jane and Bill 12 grandchildren. All reside in Florida except their eldest son, Bill Burt, III who remained in Massachusetts after college and started his family.
After her husband passed away in 1994, Jane wanted to put plans in place to distribute the assets they had acquired throughout their lives together. She didn't think that any of her children were interested in having their home. Jane loved her attorney's idea of designating the proceeds from the sale of the home to benefit causes that were important to her. She decided to leave one third to the Diabetes Research Institute Foundation, one third to the American Cancer Society which was close to her heart as well, and the remaining third was divided among her children. Her family was very supportive when she told them of her plans.
The Burt children lost their family matriarch last year. In serving as co-personal representative and trustee for her estate, their son, Bill explained, "My mother made life so much easier for those she left behind by planning as she did. There was no need for any family squabbling, and we're all happy about the good that our parents were able to do with our family home. The contribution also provided a tax benefit to the estate which was good for all of us."
With the family's blessing, the Diabetes Research Institute was able to purchase a BD LSR II Flow Cytometer, which is state-of-the-art equipment used to analyze cell characteristics and functions at a very high level. It is playing an important role in advancing the Institute's efforts to find a cure for diabetes.
Click here for more information on creating a legacy by providing for the DRI Foundation in your will or trust.
© Pentera, Inc. Planned giving content. All rights reserved.
Disclaimer