Marty Bruder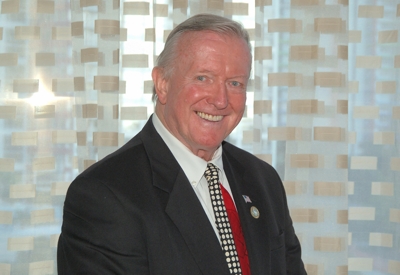 Donor Recognizes the Importance of Giving Back
Some people go through life determined to get whatever they can, while others just prefer to give. Marty Bruder certainly falls into the latter group. Born in Chicago and raised in Miami, he grew up in a home where funds were meager, yet generosity was abundant, as his mother strongly believed in giving to those in need. These deeply ingrained values have followed him throughout his life, as he has dedicated both time and resources to helping people, particularly children.
After graduating from the University of Miami's School of Business, he joined the military intelligence branch of the United States Air Force. Thereafter, he had a successful career in the security systems industry.
Now semi-retired, he was ready to review his estate plans and research various charitable organizations to name as his beneficiaries. A deeply religious man, he believes that it is everyone's responsibility to help others, and to show mercy to those less fortunate by contributing in whatever way financially possible.
While gathering his information on various charitable groups, he learned of the Diabetes Research Institute and quickly arranged for a tour of the facility. After meeting several of the DRI's faculty and seeing firsthand the pioneering work underway, Marty knew that his money would be put to great use to help cure those now living with diabetes.
Although he has friends with diabetes, he never really knew about the difficulties in managing the disease, nor its devastating complications.
"I used to think diabetes was just a sugar imbalance, and that if you kept your diet under control you would be fine," he said. "I was surprised to learn that so many different people have diabetes, and people of all ages are affected. Now I realize that it is a much more punishing disease with multiple complications to consider."
Because he feels compelled to support research toward a cure, Marty established a gift annuity through the University of Miami for the Diabetes Research Institute. His gift annuity provides him with an income stream for life, and the amount of the payments are based on his age and the amount of the gift annuity. When he passes on, the remainder of the annuity will benefit the work of the Diabetes Research Institute.
Marty has also made the DRI Foundation the beneficiary of several commercial annuities, a very significant way to support the DRI by simply filling out a beneficiary form. This can also be accomplished when you name the DRI Foundation as the beneficiary of your life insurance policy, retirement plan account, company pension, bank account or securities account.
Marty's altruistic nature drives his continued involvement with many organizations. He has devoted countless hours to helping mentally-challenged children through the Miami-based Possible Dream Foundation. He took a number of children for an outing at the zoo, and even arranged for a fire engine to visit the 25-person residential home.
He is also involved in a number of other organizations, including the American Heart Association, Miami Children's Hospital, Project Cradle, the Bascom Palmer Eye Institute, St. Joseph Indian School, Little Sisters of the Poor, and the Carmelite Monastery.
Marty Bruder is the perfect example of a compassionate donor and philanthropic friend. He gives not only his time, but with his heart. His careful financial planning will provide for the DRI in the years to come, and help to ensure continued research progress.
Click here for more information on charitable gift annuities.
© Pentera, Inc. Planned giving content. All rights reserved.
Disclaimer