Shirley Harris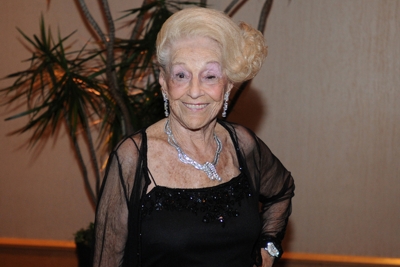 Where There's a Will There's a Way
Shirley Harris always enjoys the social and cultural events of the season along with the warm weather of the Sunshine State. When the warm weather returns to the Northeast, she also looks forward to spending the remaining half of the year in Manhattan, where it's "exciting, alive and bustling with so much to do."
Shirley certainly likes to keep busy. A former businesswoman, she spent her entire career in the retail trade, successfully starting various enterprises. Back in the 1960's, she and her late husband owned the Debbie Shops, a chain of women's clothing stores in the South. She eventually sold the business to open her own buying office for ladies ready-to-wear clothing, becoming a purchasing representative for Allied Department Stores of Georgia.
After 24 years, she closed the business in 1993 to retire. She supports a number of charities in New York and Florida, including Mount Sinai Medical Center, Miami Heart Research, Children's Resources, Banyan Society, Miami Jewish Home for the Aged and Notables, among others.
Shirley first learned of the Diabetes Research Institute when she called every diabetes organization to gather information about the disease. After hearing about the DRI and its mission, she immediately volunteered to help raise money for the Institute's work. Soon after, she took a tour of the DRI facility and met all of the scientists who explained the research underway toward a cure.
Since that time, Shirley has remained committed to the DRI and supports the Foundation in numerous ways. She attends almost every fundraising event and is an avid supporter of the Love and Hope Ball, and she always encourages her friends to join her at the annual gala.
"I approach everyone because I know in my heart that we need the money to find a cure," said Shirley.
With her golden heart, it's no wonder that Shirley was honored as the first-ever Gold Star at the Love and Hope Ball. Endearing, enthusiastic and brimming with positive energy, she has previously served as the Love Honoree as well as the Hope Honoree.
Shirley is a Grand Founder of the DRI Foundation and became one of its earliest members of the Foundation's Heritage Society to ensure the continued funding of research in the future. Shirley has also made a generous bequest to the DRI Foundation in her will. The Foundation is pleased to be able to recognize and thank her now for the gift which will create a legacy for the future.
"People have to be alerted to the fact that they can make a meaningful donation in this way and leave their money to their children and to charity," she said. "You have to give back some of what you've got."
She continued, "I think everyone should sit down right now, review their will and consider becoming a member of the DRI Foundation's Heritage Society."
Click here for more information on making a bequest to the DRI Foundation.
© Pentera, Inc. Planned giving content. All rights reserved.
Disclaimer