Ken Harple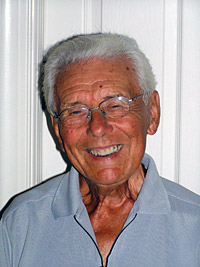 Through the Years, Ken Harple Continues His Support
Ken Harple got involved with the Diabetes Research Institute Foundation (DRIF) during its earliest years, back when "everybody knew everybody" and South Florida's Love and Hope Ball was the highest grossing event of the year.
"The organization was much smaller at that time, but the families that were involved were deeply committed," said Ken, who has watched the Foundation evolve from a small group of parents of children with diabetes to an international coalition that has helped change the scope and direction of diabetes research.
Ken explained, "Since I first got involved, the whole program has expanded. The breadth and depth of the research is much greater, and so are the fundraising capabilities. We always felt the work being done at the Diabetes Research Institute offered a lot of hope and knew it was going to be at the forefront of a cure."
A father of six, Ken's support began after his son, Craig, was diagnosed with type 1 diabetes. Ken served on the Foundation's Board of Directors for a number of years and as chairman from 1980-82. He has been involved with several fundraising campaigns over the years and, in 2001, named the DRIF as the beneficiary of his Charitable Remainder Unitrust.
"There were two reasons I decided to make this gift. One, there were a lot of tax advantages, and two, I could draw 8% of the value of the trust each year for my wife, Ann, and I for the rest of our lives," he stated.
Upon the passing of both Ken and Ann, the assets of the trust will go to the Diabetes Research Institute Foundation and Hospice.
Now retired and living in Palm Coast, Fla., Ken was educated as an engineer and got involved with the start-up of several high-tech companies in the computer and electronics fields. Today, he is an avid tennis and golf player, is very active with his church and other charities, and is a grandfather of six.
Ken continues to keep abreast of the research being conducted at the Institute and concluded, "I was glad that I set up this trust. It's a good cause, and I think there will be a cure one day."
Click here for more information on charitable remainder unitrusts.
© Pentera, Inc. Planned giving content. All rights reserved.
Disclaimer