The Doran Family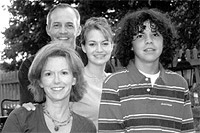 Hopeful and Committed, the Doran Family Will Not Be Deterred from a Cure
Commitment runs strong in the Doran household. Married for 26 years, Kelly and Harold Doran are devoted to each other, their two children, and the happiness of their family. They dedicated themselves to successful careers and have pledged their unwavering support to a number of worthy charities. So in 1994 when their then 2-year-old son was diagnosed with type 1 diabetes, Kelly and Harold dealt with this devastating blow the only way they knew how. They committed themselves to helping find a cure.
After hearing a presentation by the Diabetes Research Institute's Dr. Norma Sue Kenyon and visiting the DRI's state-of-the-art facility to have a firsthand look at the work being done, the Dorans were eager to get more involved. For them, the question was not whether to make a contribution to the Diabetes Research Institute Foundation but how best to do so.
They opted to make their gifts in the form of securities. Harold explains, "It is advantageous to utilize appreciated securities to make a charitable contribution. By doing so, you can avoid paying capital-gain tax at both the federal and state levels, thereby maximizing your gift to the DRI."
Another plus Harold mentioned: "Contributing stock to the DRI Foundation is so simple because it is done broker to broker. All I do is give my broker the securities transfer information provided to me by the DRI Foundation staff. He transfers the securities per my specifications. Soon after, I receive a letter from the Foundation thanking me for my gift, which I save for tax purposes. It's that easy."
Mathematics and finance are second nature to the Dorans. Kelly is a mathematics professor at Murray State University, and Harold is a veteran of the banking industry with more than 25 years in the field. In his retirement, Harold spends his time volunteering in their community of Murray, Kentucky, and providing financial advice to those in need. He has been elected to the DRI Foundation's National Board of Directors and is currently serving as chairman of the Investment Committee.
For the Dorans, their greatest joy is their kids. Their eldest, Sarah, a freshman in the honors program at Miami University in Ohio, is majoring in history. Their son, Will, now 15, plays varsity soccer despite diabetes and is a straight-A student. Like his parents, Will is committed to one certain belief—that in his future, the Diabetes Research Institute will find a cure for him and the millions of others living with this disease.
Click here for more information on creating a legacy by providing for the DRI Foundation with a gift of appreciated securities.
© Pentera, Inc. Planned giving content. All rights reserved.
Disclaimer