Amy and Alan Meltzer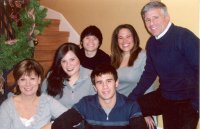 The Meltzers Trade Stock for Hope of a Cure
Seven years ago, Amy and Alan Meltzer visited the Diabetes Research Institute, encouraged to make the trip to Miami from Washington, D.C., by their friend Marc S. Goodman, chairman of the DRIF national board of directors. It was there that the couple found hope for a cure for their son, Mark, 17, as well as a place they could turn to in times of need.
After being diagnosed with type 1 diabetes at only 15 months, Mark went through a difficult period two years ago, at which time the Meltzers reached out to the DRI for help. He was put under the care of Dr. Daniel Mintz, who kept a vigilant watch over the suffering teenager. Dr. Mintz spoke to the family every few hours, even throughout the night, for more than a week, averaging 12 calls per day.
"Dr. Mintz is one of our favorite people in the world. He is a caring and incredible man," said Alan, with great appreciation for his concern and attention.
Their first impression of the DRI's research excellence, combined with the unparalleled treatment that Mark receives from its Kosow Clinic, has made the Meltzers generous contributors to the organization. Though the couple is involved in charitable giving for other organizations, the DRI holds a special place in their hearts.
"A parent of a diabetic child wakes up every day hoping and praying for a cure," said Alan, reinforcing their decision to support the DRI.
As a principal manager of a company specializing in insurance and financial services, Alan is no stranger to money management. Amy is the principal nurturer, caretaker, and guiding spirit of their four children and, as Alan puts it, is completely focused on helping to further research. Together, they realize that the only way a cure will be found is through continued financial support of the DRI's programs.
At the end of each year, if they have appreciated stocks, Alan transfers them to the DRI, making a worthwhile donation while eliminating capital-gain tax. In his expert opinion, transferring stocks is one of the most tax-effective ways to support a deserving cause.
"It feels so good to know we are using intelligent financial planning while helping the DRI find a cure for our son," Alan said.
Click here for more information on creating a legacy by providing for the DRI Foundation with a gift of appreciated securities.
© Pentera, Inc. Planned giving content. All rights reserved.
Disclaimer