Henry Caballero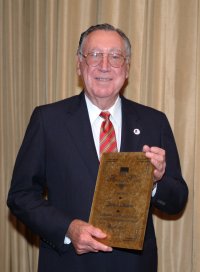 With a Change of Heart, Henry Caballero Changes His Will
Henry Caballero has lived with diabetes for more than 40 years, struggling to control his blood sugars for many of them. Not only were the daily demands of the disease taking a toll physically, but the mental challenges often seemed overwhelming. Just when he thought he was at his wits' end, Caballero discovered the Diabetes Research Institute's (DRI) Eleanor and Joseph Kosow Diabetes Treatment Center and found some much-needed relief from his usual highs and lows.
"I credit the DRI for teaching me what I needed to know to keep my blood sugars in check. Everybody treats me so well there, and I am very grateful for what they have done for me," he lauded. "In fact, I am always referring people who are having difficulty with their diabetes to make an appointment at the DRI's Kosow Center."
After his son's untimely passing, Caballero reevaluated his estate plans and decided to revise his will so that the assets he has acquired through a lifetime of hard work would be put to good use. His first thought was to help those who have diabetes by funding the DRI's research. After learning more about the Institute's comprehensive approach to combating diabetes, he designated a portion of his estate to the DRI.
Caballero has now made provisions in his will for multiple causes that are close to his heart and is considering endowing a scholarship at the University of Miami to help provide financial support for students in the future. After serving in the Navy, Caballero attended the university, which he credits with preparing him for a successful career in business. He hopes to give that same opportunity to others.
"Knowing that I'm helping others gives me a good feeling about my plans," he said.
Entrenched in the South Florida community, Caballero worked for Bacardi Imports for 25 years as southern division manager and vice president of sales. An avid art collector, he initiated the art gallery in Bacardi's Miami building and also brought the Bacardi Cup Sailing Regatta to the city. After leaving the company, he went to work for Belcher Oil where he was director of sales for their asphalt division for 15 years. He is a member of Riviera Country Club, Coral Reef Yacht Club, and the Beach Colony Social Club.
Click here for more information on creating a legacy by providing for the DRI Foundation in your will or trust.
© Pentera, Inc. Planned giving content. All rights reserved.
Disclaimer