Elaine and Dr. Sheldon Zane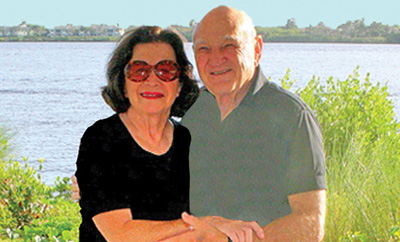 DR. SHELDON AND ELAINE ZANE MET AS COLLEGE STUDENTS WORKING IN THE CATSKILL MOUNTAINS OF NEW YORK. THEY'LL CELEBRATE THEIR 54TH WEDDING ANNIVERSARY THIS YEAR.
An internist specializing in Rheumatology, Sheldon was a member of the fourth graduating class at the University of Miami School of Medicine. He served in the U.S. Army Medical Corps at Walter Reed Medical Center. Elaine is a graduate of Boston University. They have four children—three daughters and a son—and eight grandchildren.
"Retirement" has kept them very busy. Sheldon works part-time for Catholic Hospice. He went to Haiti for six days after the devastating 2010 earthquake through Project Medishare for Haiti, the program co-founded by the UM School of Medicine's Dr. Barth Green and Dr. Arthur Fournier. Sheldon and Elaine recently volunteered for Sar-El, a program that sends individuals to serve on an army base in Israel for two weeks, where they helped to pack medicines that go to the bases and to catastrophe locations at which Israel is one of the first responders.
Sheldon sings in two choirs and teaches the popular computer software program Photoshop™. Elaine volunteers at Fairchild Tropical Gardens. They both recently joined a program at Hollywood Hills High School to mentor and help students with the FCAT exams.
The Zanes have been involved with the DRI Foundation almost since its inception, after type 1 diabetes touched their family. When their son Steven turned 15, he became ill with a virus and subsequently began to exhibit many of the classic symptoms of diabetes. As a physician these symptoms were very familiar to Sheldon and their family history was quite strong for type 2 diabetes. They never expected to have diabetes occur in one of their children—but a test soon confirmed Steven's type 1 diabetes diagnosis.
Right after his diabetes was diagnosed, Steven went through a "honeymoon" period and didn't immediately have to go on insulin. However, after a few months the honeymoon ended and he required insulin injections. Sheldon and Elaine knew at that moment that their family life had changed forever. They sought the support of other families who were going through the same challenges.
"That's how we got involved in the DRI Foundation, because living with diabetes became our focus," says Elaine. "Way back then in the seventies, it was a really small group just starting out, and it was a support group in addition to fundraising. It was a like a family —that's what led us to it."
After becoming DRI Foundation Board members, they volunteered for the "Hi-Way Holdup," a grassroots street corner campaign created in the early years to collect donations from passing motorists.
"Our post was usually on 163rd Street and Collins Avenue, and we had a team," she recalls. "Steven was in college, and all of our other children and their friends were involved in helping. When Steven came back from college, he and our daughter-in-law would help out too. We had a great response from our community—everyone would put money in our buckets. We have very good memories of that time, and the counting and tallying of the day's collections was a fun time for all of us."
Steven now lives in Ohio with his wife and two daughters, and they recently celebrated the marriage of their oldest daughter. He is receiving care for retinopathy at Ohio State University but has been fortunate to have no other serious complications associated with diabetes. He has lived with the disease for 37 years and uses an insulin pump, which has worked well for him.
In gratitude for all the support they received for their son, Sheldon and Elaine decided to continue their support of the DRI's cure-focused research with a legacy gift to the DRI Foundation. By including the DRI Foundation in their estate plans, they are recognized as members of the DRI Heritage Society, and their names are inscribed on the Heritage Society Wall at the Diabetes Research Institute.
"It was never a question in our mind when we made up our wills many years ago to include DRI," says Elaine.
"We also appreciate that the research is done here so you can see where your money goes," Sheldon notes.
"It's easy to include a bequest in your will," he says. "Just designate a gift to the DRI Foundation and you can be assured that your generosity will play a major role in helping to advance the DRI's most promising scientific research. With their focus on a biological cure restoring natural insulin function and worldwide collaborative approach, we believe that the DRI will be involved in eradicating diabetes once and for all."
Click here for more information on creating a legacy by providing for the DRI Foundation in your will or trust.
© Pentera, Inc. Planned giving content. All rights reserved.
Disclaimer