Barbara and Norman Shapiro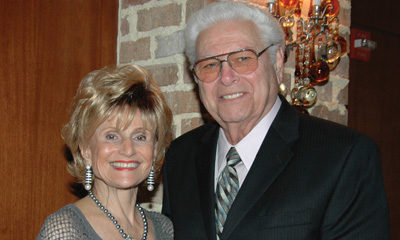 Perfect Timing for a Tax-Free IRA Rollover Gift
Longtime supporters Barbara and Norman Shapiro recently made a very generous gift of $50,000 to the Diabetes Research Institute Foundation through their IRA. Barbara and Norman became involved with the DRIF and our Love and Hope Ball over 25 years ago. Many of Barbara's friends were members of the committee, and she was invited to join them. Having made contributions to the DRI over the years, the Shapiros realized this is the perfect time to make that IRA rollover gift, providing them with an opportunity to advance the DRI's promising research and avoid paying taxes on their required minimum IRA distribution.
Barbara and Norman, who celebrated their 65th wedding anniversary this year, are living the American dream. "We weren't born rich," Norman said. "We started with nothing but dreams, hard work and honesty." Norman graduated from high school in 1945. In high school, he played varsity football and excelled in math. Norman joined the Navy before he was 18, while World War II was in progress. "I had to get my parents' permission," he recalls. Norman's enlistment was for the duration of the war plus six months. He was still in boot camp when the war ended. Norman was then assigned to a base in New Port, Rhode Island, where he became a cook. Four months later, he was transferred to serve on an aircraft carrier. Because of his skill in mathematics, Norman was put in charge of maintaining inventory and ordering all of the provisions for the four galleys. He was discharged after a total of 13 months.
"My father was a kitchen cabinet salesman selling to builders and contractors," Norman said. "I wanted to open a cabinet business with my father and my brother." In 1947, they opened Sol Shapiro & Sons, a kitchen cabinet manufacturing company in Brooklyn. When Norman's brother and father moved to Florida in 1957, he followed suit. In April 1965, Norman bought a percentage of a small cabinet company on the verge of bankruptcy and turned it around. The company, which became Sunshine Kitchens, Inc., continued to grow, prompting Norman to expand the facilities and the number of employees. In 1999, Norman sold the very successful business he built.
As successful as her husband, Barbara helped start the condominium sales boom in Miami in 1964, when the state legislature passed a law allowing the sale of condominiums. Barbara knew the builders of the first condominiums being built in the Skylake area and decided to put her real estate license to use. She was a true innovator as the first person in Miami to sell condominiums. Having gained great success, Barbara later opened Gail Mar Realty, named after daughters Gail and Marcia, to focus on condominium resales.
"Now is the time when we can and must give back and help people," Norman said. As Barbara and Norman became successful, they began contributing to the organizations that were meaningful to them. They started small and gave more as they became more able to. Having already taken care of their family, Barbara and Norman want to help find a cure for diabetes. Norman says, "We're not going to live forever. It's better to give with warm hands than cold hands."
Now retired, Barbara and Norman enjoy traveling and spending time with family. They have had two daughters, a granddaughter, and three great grandchildren. Unfortunately their daughter Gail, who is dearly missed, passed away in 2010 from Chronic Obstructive Pulmonary Disease. Their daughter Marcia currently lives in Miami, saving pugs and finding homes for them. Marcia's daughter lives in New York with her husband and three children, ages 8, 10, and 12. Barbara and Norman will be joined by their family at the 40th Annual Love & Hope Ball, where they will be honored as the Love Honorees. Hoping to help find a cure for diabetes, they plan to stay active with the DRI Foundation for many years to come.
Click here for more information on creating a legacy by providing for the DRI Foundation through your retirement account.
© Pentera, Inc. Planned giving content. All rights reserved.
Disclaimer